SiteFusion now offers even more for external users. The extensive content management and workflow solution SiteFusion is complemented by the lightweight SiteFusion Portal. Publishers, authors, typesetting or printing service providers and other users can use this modern and streamlined workplace to edit, review or approve entire products or individual documents or assets.
The user interface of the SiteFusion Portal offers a simplified and intuitive perspective on for instance editing and production data within the processes in SiteFusion. Employees in press, marketing or sales also appreciate quick access to content and data, regardless of location or device.

An external editor involved in the workflow, for example by being assigned a task or a collection of assets, can be notified by email or a notification in the portal if desired.
From this point on, the user has access to all information and assets relevant to him via secure APIs. Depending on the workflow and asset type, editing is now possible in different editors:
Microsoft Word for classic manuscripts directly in the browser including check-in / check-out
Fonto for XML content
Collaboration tools such as Smashdocs
The SiteFusion Portal is also ideal for layout designers or typesetters to get a quick overview of all elements on their to do list.
In combination with the CI HUB Plugin, the tasks and assets are also made available in Adobe CC and MS Office programs.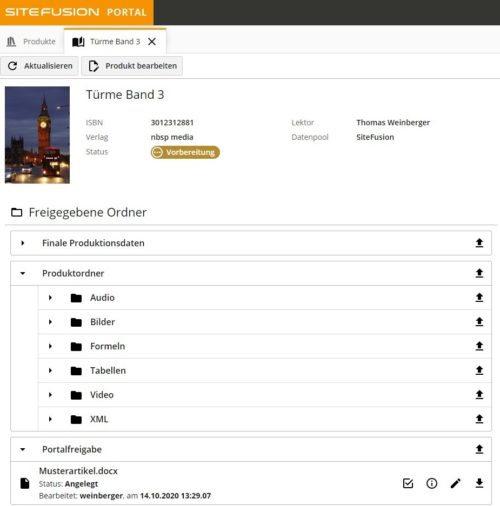 If required, the SiteFusion Portal can be provided on a separate server; SiteFusion is accessed via secured APIs. Merely the shared data can be edited externally in the SiteFusion Portal. Thus, the content is protected against potential security gaps, such as hacker attacks.
For interested customers, SiteFusion also offers web sessions on request to demonstrate the functionality of the SiteFusion Portal in synergy with SiteFusion.